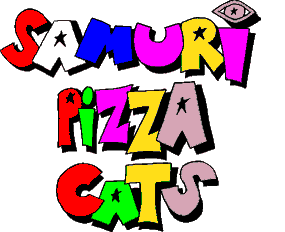 ---
DISCLAIMER
These Samurai Pizza Cats pages were not made by Saban International.
Any opinions depicted here are not theirs, but of the creators of these pages.
---
---
Welcome to the Samurai Pizza Cats homepage!
Dit leidt naar de Nederlandse versie.

For some strange reason we are the first page on the Pizza Cats... Truly amazing for a series that deserves to be incredibly popular. Let us fill you in on the Samurai Pizza Cats, oh honoured visitor.

If you see a spot where I completely missed the truth, let me know. Truths are here to be bent in the direction we wish them to be...
---
Page last modified on 8-18-1996, send comments to Patrick Atoon.
---
Original animation © 1990 Sotsu agency
Tatsunoko Production Co, Ltd.

Images and audio © 1991 Saban International Services, Inc
Saban International N.V.
---